Semi-truck accidents can lead to very serious injuries, especially when that accident is a high-speed crash. For the victims, one question that usually comes up relates to what caused the crash.
There are a host of causes of semitruck crashes. Some are preventable, but others can't be helped. If you are injured in a semitruck crash, think carefully about each possible cause. In some cases, you might find that more than one was present.
Unsecured loads
Semitruck loads that aren't properly secured can shift and cause accidents. In some cases, the load will come off of the semitruck and will slam into another car or land on the roadway, which causes a hazard. In other cases, the load will shift enough to where it sends the semitruck moving in an uncontrollable manner. Semitruck drivers must ensure that the loads they carry are secured effectively and within the requirements of applicable regulations.
Driver error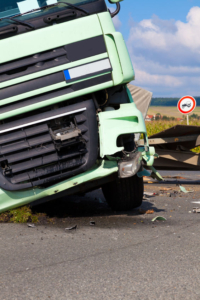 A semitruck driver who is fatigued or distracted can cause a crash. Semitruck drivers must be ready and able to make good decisions as they drive. When they are unable to do this, they might not react in an appropriate manner to the hazards that are around them. With the Hours of Service regulations that are in force, truckers have specific limits to how long they can drive. Driver logs are a way to ensure that these limits are complied with. Some trucking companies might encourage truckers to try to skirt these regulations in an effort to get loads delivered rapidly.
Other drivers
Some semitruck crashes are caused by other drivers' actions. This could occur if a car cuts too close to the semitruck. These large trucks need ample room to stop, so they must be given adequate room. Trying to dart in front of a semitruck can lead to an accident that might not affect the driver who darted in front of the truck. Other vehicles around the semitruck might not be so lucky.
Mechanical issues
Mechanical issues with the truck, such as malfunctioning brakes or hitches, can lead to accidents. In some cases, these issues are due to component defects. They can also be due to improper installation or maintenance.
The cause of the semitruck crash matters because it can determine who is held liable for the accident. You must ensure that you are seeking compensation from the responsible parties or your claim might be considered invalid.
https://thecreccalawfirm.com/wp-content/uploads/2023/03/4723049_m.jpg
1672
2508
damg
https://thecreccalawfirm.com/wp-content/uploads/2023/03/logo-300x87.png
damg
2017-06-21 08:30:09
2023-04-18 08:54:44
Semitruck Crashes: The 4 Common Causes Of These Crashes